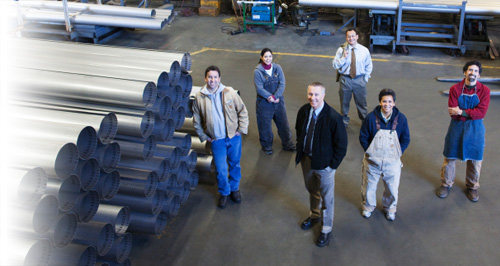 Tugboat's Workforce Scheduling Bundle automates, from beginning to end, the entire process of scheduling your workforce. Built on our Workforce Services Core Package, it is ideal for a large workforce using multiple shifts. We begin with your production sequence and automatically create — with one button — a comprehensive, detailed labor schedule of job assignments.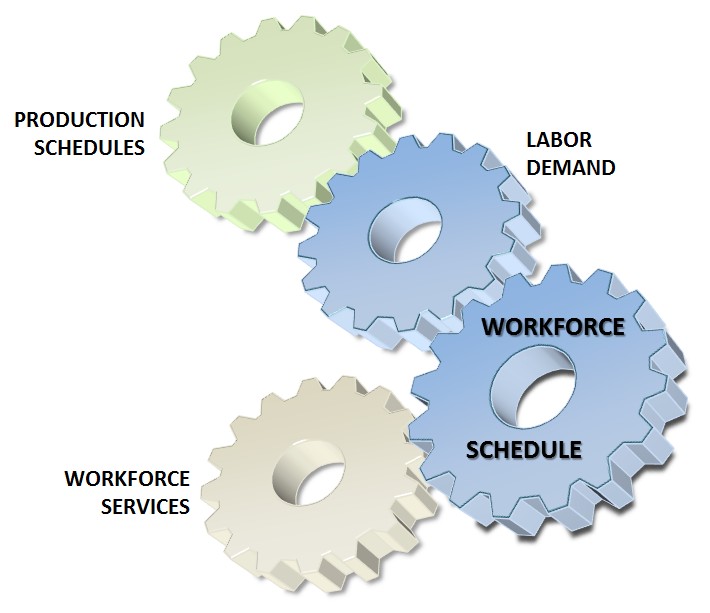 Speed
The power and speed delivered by Tugboat's Workforce Scheduling Bundle comes from its schedule generate engine. This engine is tailored to conform to the unique labor scheduling rules and business policies that are specific to each customer's plant or facility. For most customers, generating a schedule takes less then two minutes. This means that you can easily generate complete schedules, or test schedules, for hundreds of workers at a moment's notice.
Workforce Scheduling begins with your production schedules and converts these into labor demand. Next it combines data from Tugboat's Workforce Services package and then automatically generates a complete labor schedules of job assignments for 200 to 1200 workers WITH ONE BUTTON.
Generate Schedule
With one button, Tugboat's Workforce Scheduling solution automatically:
Assigns jobs
Assigns overtime
Optimizes assignments
Resolves conflicts
Assigns training
Grants employee requests
And the results are:
Completed in minutes
All according to your rules
Completely auditable
Repeatable
Capabilities
Automatic – Automatically fills labor demand, standard, overtime, and block time.
Comprehensive – Supports an unlimited number of jobs, employees, shifts, departments, lines, work areas.
Thorough – Schedules all job assignments with no work to finish manually.
Rules-Based – Applies your site-specific scheduling rules while automatically assigning the right employee to fill your labor demand.
End-to-End – Automates all aspects of crewing including management of skills, on-the-job training, job bidding, events, deadlines, absences, vacations, crew and shift patterns, and employee preferences.
Staffing Level Planning – Plans labor requirements for immediate or long-term horizons.
Responsive – Enables last-minute response to production changes with multiple tools.
Optimized – Mathematically optimizes employee assignments, with focus on labor cost control, all within the bounds and constraints or your existing labor rules and policies.
Self-service – Enables employees with Internet access to schedule requests, log preferences, and much more.
Permanent record – Creates a permanent record of your decision-history.
Benefits
Converts production scheduling into labor standards.
Faithfully enforces your rules and policies.
Consistently applies employee skills, training,availability, and preferences.
Reduces workload for management in operations, production and on the front line.
Improves communication and employee satisfaction.
Drives down operating costs.
LABOR SCHEDULING OPTIMIZATION
Unique in the field of labor scheduling, Tugboat's solution includes a proprietary software engine that mathematically optimizes job assignments in a single automated procedure. The goal of optimization is simple: lowering the cost of production by assigning the workforce more efficiently. Specifically, optimization fills the largest possible number of jobs, with properly skilled workers, while also satisfying policy objectives. As important as the policy objective, Tugboat provides optimization within the bounds of your existing labor scheduling policies and rules.
OPTIMIZATION AND POLICY
Tugboat's optimization also enables you to achieve goals that are based entirely on policy by focusing optimization within the software engine on the following objectives:
Eliminating unnecessary overtime (OT).
Reducing the overuse of temporary workers.
Eliminating redundant job assignments.
Assigning jobs based on employee preferences.
EXAMPLE OF OPTIMIZATION
| | Monday | Tuesday | Wednesday | Thursday | Friday |
| --- | --- | --- | --- | --- | --- |
| Available Workers | 420 | 420 | 420 | 420 | 420 |
| Labor Demand * | 430 | 420 | 430 | 440 | 390 |
| OT Without Optimization | 45 | 35 | 55 | 70 | 0 |
| OT With Optimization | 28 | 22 | 25 | 34 | 0 |
Based on actual Tugboat Software customer workforce schedules
The success of Tugboat's optimization can easily be quantified. In the example above, the objective is to eliminate unnecessary OT. During any period, finance can report the cost of OT. Reducing the cost of OT can be targeted as a goal, monitored, and verified over a calendar period. By comparing test schedules generated without and with optimization, you can easily see the lower number of jobs requiring OT when Tugboat's proprietary optimization technology is used.
In a hypothetical manufacturing plant, illustrated above, which typically spends about 12% of payroll for OT, the table compares OT jobs generated without and with Tugboat's optimization. This facility has a consistent pool of available workers at 420. However, Labor demand *(the minimum number of workers needed to meet current production requirements) varies from day to day as production varies. The table illustrates how a return on investment based on lower cost for OT can be achieved with Tugboat's proprietary optimization technology.
Learn more about Tugboat's Core Package, Vacation Scheduling, and Workforce Scheduling Bundles and how Tugboat's solutions can benefit your company. Contact us today.
TRAINING
Tugboat Software has developed a project plan designed to ensure that, beginning with training, your project is a success. Throughout every stage in the project plan, Tugboat will train, guide, and assist.
Our experience has shown that software installation is an iterative process, rather than a linear one. The basic steps are to define requirements, transfer and refine data, test, and deploy. This process is applied to each step in Tugboat's project plan. In this manner, scheduling rules, data management, reports, system security, and any custom user interface, all come together as a whole as the system comes on-line.
ANALYSIS
Tugboat's Workforce Scheduling resources have a proven track record analyzing and then documenting a customer's work rules, union rules, and business policies as they bear on workforce scheduling. In dynamic manufacturing operations, scheduling a workforce is a complex problem with real costs. Today, employees are identified not only by their nominal or bid job, but by the variety of jobs they are trained to perform — their skills — along with their preferences for jobs and a shift. The labor scheduling challenge is to correctly allocate a pool of today's employees, each with multiple skills, while consistently satisfying your
ALTERNATIVE LABOR SCHEDULING RULES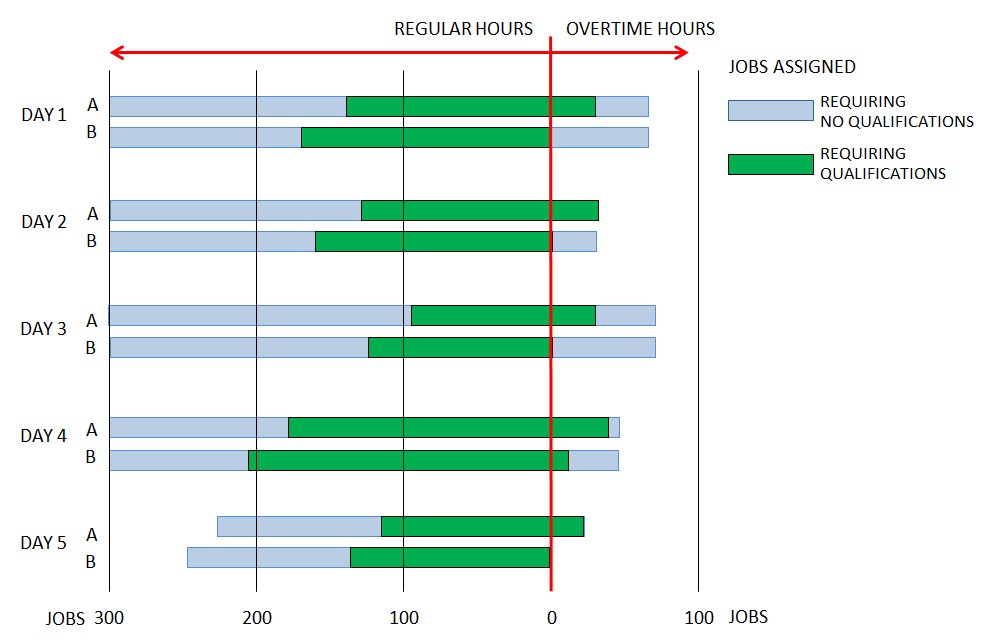 Based on actual Tugboat Software customer workforce schedules
If your workforce includes a mix of skills and job preferences, and you use a range of policies when assigning jobs, then testing alternative schedules can be key to evaluating how new policies will actually impact workers, and effect your bottom line. Tugboat's scheduling experts can develop and test alternative scheduling engines for your facility, and results can be easily compared since test schedules are created automatically with Tugboat's "generate schedule" button.
The graph above compares results from two different Tugboat scheduling engines, A and B, over five days of the week. Results from this customer's existing engine are shown as A where the engine was designed to follow contract rules for job assignments for only regular hour jobs without overtime. The challenge with optimization and engine B includes:
1. Automatically assigning all jobs while also reducing both the quantity, and the cost of overtime.
2. Filling the maximum number of jobs during regular hours that require specified qualifications.
3. Reducing the need to move workers from one shift to the next to fill these jobs.
It is more difficult to fill jobs when they require qualifications and, the cost of jobs that require skilled workers is higher. So, overtime costs less  if overtime jobs do not require qualifications. The red vertical line on the graph is the boundary between regular hour jobs and overtime hour jobs. Notice the advantage with engine B where the number of overtime jobs needing qualifications is less than when using scheduling engine A.
As an additional benefit, moving workers from one shift to the next to fill jobs was often required without Tugboat's new engine. Now this requirement is significantly reduced and the workforce realizes the benefit in their daily lives.
In summary, when using Tugboat's optimization for assigning all jobs, combined with our scheduling expertise, the total labor cost for this customer is reduced significantly.
SOS Labor Scheduling News
---
---
SOS Labor Scheduling Newsletters
---
SOS Labor Scheduling Magazine Articles
---
SOS Labor Scheduling Whitepapers